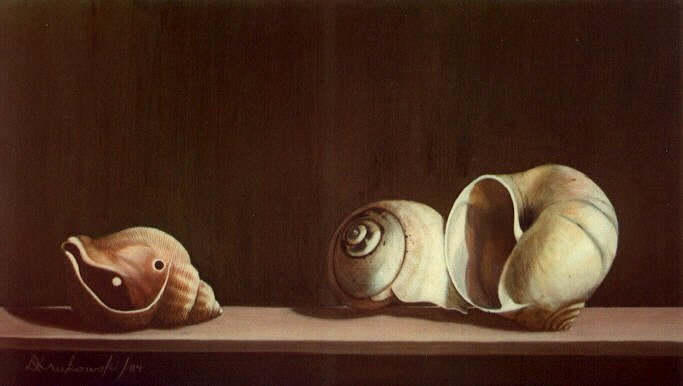 "Shells"
All Paintings © 2000 Belladonna




Biography:
Belladonna lives in a small town in Ontario, Canada with her husband, four children, one dog, two monitor lizards, and some fish. She has painted all her life with the exception of a seven-year period when her children were small. She is self-taught in oils, but did attend advanced classes in watercolor, life drawing, art history, and design. Much of her teen years were spent wandering in the National Gallery of Canada and reading all she could find about the techniques of the old masters. "I am not a 'Photo Realist'," she says, "nor do I try to be. I sometimes use photos as a reference for my work. Sometimes I use life, and sometimes my imagination will suffice. As a 'Romantic Realist' painter, I try to improve on nature. I do not paint what I see; I paint instead what I would like to see. I always, even if subconsciously, enhance the things that appeal to me in my subjects. I rearrange the world to be one with my vision. In this way, I create a world of my own making. A world that is not there, and therefore, can never be captured on film."
You are cordially invited to find out more about Belladonna and her work by visiting her personal art web site or contacting her via e-mail.

Web Site:
Belladonna

Contact:
Belladonna



And the Critics Say ~~

"I just love the artists selections you have chosen. "Tea with Limes" is just excellent, reminds me of the Dutch School."