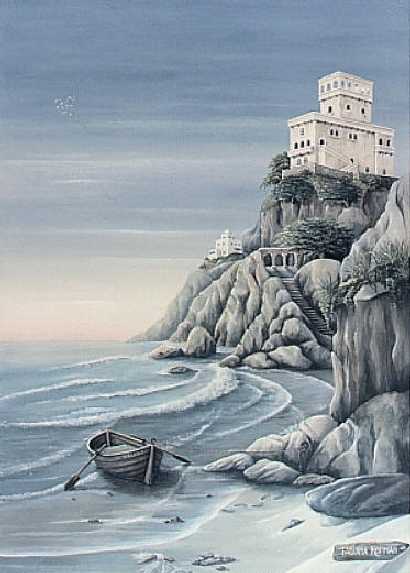 "Marina Serenity"
All Paintings © 2000 Fabiana Kofman




Biography:
Some years ago, I began to paint without any previous knowledge of art or formal studies. It was a great challenge for me considering that I discovered my vocation after reaching adulthood and becoming a wife and mother. I have a beautiful family, but no time to attend art classes. I consider myself an autodidactic. An autodidactic is a person who develops her own art without any kind of academic preparation. In my opinion, this doesn´t imply primitivism or immaturity, because an artist who has not received the lessons of masters and partners must discover everything for herself. Therefore, she must be able to find the answers (many times hidden). If she really wants to progress, she must work her head off, making use of a solid discipline. When I paint, I try to capture my inspiration and my feelings -- the poetry of my soul lives in each image of my art.


1997
Individual Exhibition: "Gallery Luis Seoane," Buenos Aires.
Collective Exhibition: Hall, "Cherry Breitman," Argentinean Council of Israeli Women, Buenos Aires.
Collective Exhibition: Gallery, "Pio Collivadino," Buenos Aires.
II Hall Mercosur, Prize: "Juanito Laguna" Gallery, "Volpe Stessens," Buenos Aires.
Collective Exhibition: "The roads of the creation," Gallery, "Aquarius," Buenos Aires.
Auction participation: "Big Teachers of the Plastic," Benefit for the Parish "Santa Ana de Glew."
Organization: "Encounters of Plastic" in the "School of the Stars," for parents/students, Buenos Aires.
IV Exhibition End of Year: "Gallery Aquarius," Buenos Aires.
Magazine Cover: Aquende, it Works ("Meditation," December Edition: 10,000 copies).


1998
Participation: Fair, "ARTe B.A 1998," integrating staff of "Centoira Gallerie."
Participation: Local CATV program, "Everything is Art," May '98. Theme: Portraits.
Individual Exhibition: Gallery, "House Earth," Buenos Aires. Themes: Acrylic, watercolor, portrait.
Collective Exhibition: 29º "Hall of Painting Félix Amador," Council of Vicente López, Trabucco Residence.
III Collective Exhibition (Greek/Filohelenic Plastic Artists): "Today's Hellenic Culture," Administration/Participation Center, Buenos Aires.


1999
Collective Exhibition: Halls of Chancellery and Residence of the Greek Ambassador, Argentina.
Exhibition: "Four Painters" in the CHA, Argentinean Horsy Club.
IV Collective Show (Greek/Filohelenic Plastic Artists): The City Administration and Participation Center, Buenos Aires.
Third Reward Hall "For the Peace:" Gallery, "Space Alpha Loft," Buenos Aires.
Iº Collective Exhibition: "The Buenos Aires Neighborhoods through their women painters," Golden Hall of the Secretary of Culture/Social Promotion of the Government, Buenos Aires.


You are cordially invited to visit Fabiana's personal art web site.

Web Site:
Fabiana Kofman