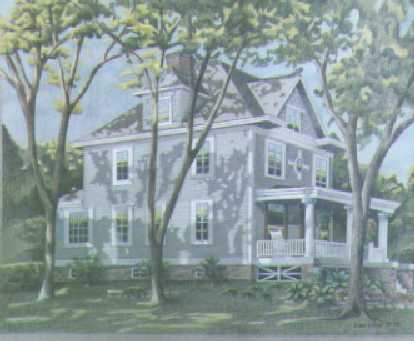 "Untitled"
All Paintings © 2000 Linda Wilmot




Biography:
I hope that my work gives the viewer an opportunity to escape from a world filled with ever-growing pressures to succeed and the strife in our communities. I think of my paintings as a place to rest and find peace. I am inspired by seemingly ordinary scenes, such as the sun just as it breaks through the trees to create spectacular shadows or the fallen leaves resting in a quiet pool by the edge of a stream. Most of my work is accomplished using the mediums of Prismacolor pencil or acrylic paint.


Recent Exhibitions:
October 2000: Ottawa Illinois Riverwalk Art Fest
September 2000: Morton Illinois Pumpkin Fest
August 2000: Faith Christian Centre, Washington, Illinois
March 2000: Lakeview Museum Shop Show, Peoria, Illinois
February 2000: Lakeview Museum, Illinois Women in the Arts Exhibit
December 1999: First United Methodist, Peoria, Illinois
September 1999: Morton Illinois Pumpkin Fest
May 1999: Illinois Art League Art and Automotive Show
April 1999: Illinois Art League Spring Show
October 1998: Checkered Raven Art Gallery 111, Peoria, Illinois
April 1998: Illinois Art League Spring Show
June 1998: Illinois Metro Center Art Fair, Peoria, Illinois


You are cordially invited to contact Linda by clicking the link below.

Contact:
Linda Wilmot



And the Critics Say ~~

"I love "The Scarf." It's so inviting, I could just step into it!"